Supply chain mapping: how to get started
Supply chain mapping is an essential part of responsible sourcing. Learn what supply chain mapping is and how to get started with our helpful overview.
What is supply chain mapping?
Mapping your supply chain means gathering information about your suppliers, their own suppliers, and the people who work in your supply chain to create a global map of your supply network. This information can be held in a single data platform for ease and to facilitate analysis.
Supply chain mapping isn't just a one-off exercise – it's an ongoing activity as you get more information and as your supplier base and supply chain changes.
Why is supply chain mapping important?
Mapping the supply chain can help your business learn more about how their products or services are produced, where, and by whom. It is the foundation for building a risk management, due diligence, and responsible sourcing programme in your supply chain.
The process of supply chain mapping brings numerous benefits to a business that go far beyond simply providing visibility and meeting legal requirements.
What are the benefits of supply chain mapping?
Create supply chain transparency and visibility.
Investors and consumers expect a business to know how and where their products are made.
Identify and understand inherent risks within the supply chain and protect operations and reputation against them.
For example, some countries have higher rates of exploitative practices like child labour and are therefore higher risk to source from. Knowing where suppliers are located helps to understand the magnitude of these risks.
Make informed business decisions and prevents risks.
Using insight about their supply chains, businesses can prevent and reduce risk, build long-term supplier partnerships, upskill, and support suppliers.
Take action to remediate issues and protect workers.
Having more information about suppliers and workers allows a business to understand the human rights and environmental impacts their decisions may have throughout their supply chain.
Modern Slavery Acts and other laws require companies to demonstrate how they address modern slavery, including within their supply chains. To do this effectively companies must know who their suppliers are, the risk of modern slavery, and what action is being taken to prevent and remediate it if or when identified.
Supports reporting on ESG criteria and attracts investors.
Environment, social, and governance criteria (ESG) are of increasing interest to investors seeking to understand the potential environmental and social risks of an investment prospect. Incorporating supply chain mapping into a comprehensive due diligence programme is key to reassuring investors that businesses understand their supply chains and have true visibility of the risks within them.
How to map your supply chain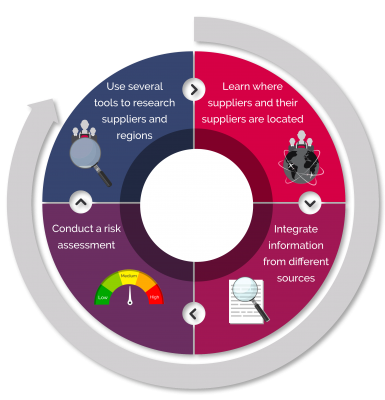 There are four key steps in the supply chain mapping process.
Learn where suppliers and their suppliers are located by working with procurement and using existing supplier lists.
Integrate information on your suppliers from different sources using a spreadsheet or data platform. Supply chains can change rapidly; a system for managing supplier data will help you to keep information current and in one place.
Conduct an initial risk assessment to help you prioritise where to focus next.
Use several tools to research your suppliers. Collect information about what is happening at supplier worksites, and research the inherent risks associated with the countries and sectors they operate within.
Continue this process as your supply chain grows – the more information you have, the more insight you'll gain. Once you have a good idea of your top tier sites, start looking at the sites that supply to them, i.e. their suppliers. If you use several wholesale agents, you may want to start this earlier in your supply chain mapping process.
Tips for getting started
Identify who will be responsible for pulling together information about suppliers and capture what you already know in a single place. Speak to stakeholders across your business and various departments, look at suppliers' invoices, and check the addresses on their websites.
Use tools like the Sedex Self-Assessment Questionnaire(SAQ) for suppliers, SMETA audits and pre-screening risk tools as part of this process.
Get help with mapping your supply chain
At Sedex, we can help your business get started with supply chain mapping, offering support through our tools and data platform.
Sedex can help you gather information on suppliers
This includes where they are located, the activities occurring at different sites, and the people they employ. We offer tools such as our self-assessment questionnaire for capturing data about suppliers' and businesses' own sites.
Sedex can facilitate supplier engagement and onboarding
The Sedex platform holds all this information in one place to build an interactive map with reporting. Sedex supplier members can share the data with multiple customers to avoid duplication of effort.
Case studies
Find out Sedex helps DuPont Nutrition with supply chain mapping. DuPont Nutrition and Biosciences work with Sedex to drive efficiency, improve transparency, and support business relationships within their supply chain.