Sedex identifies 10 vital data points to demystify ESG reporting
10 Key Data Points for Effective ESG Reporting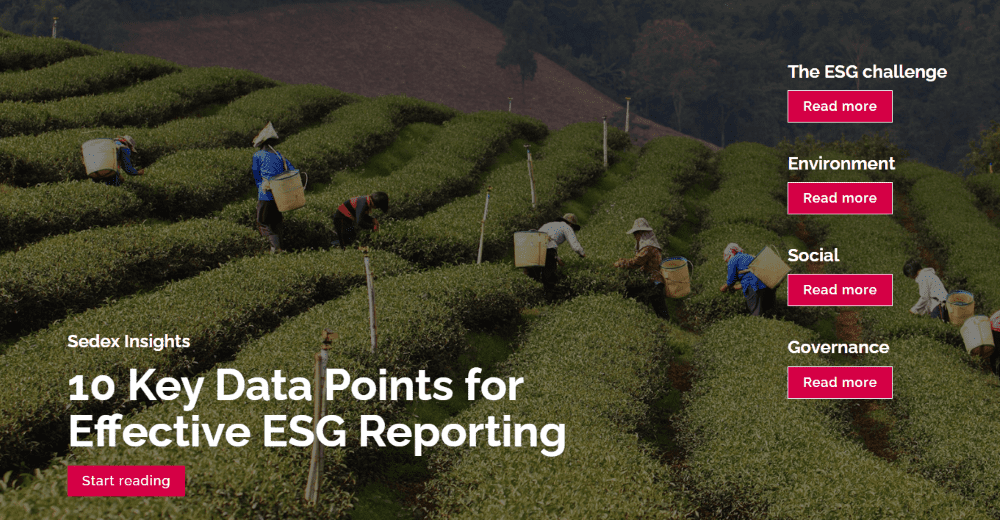 Our latest insights report highlights the essential business and supply chain data to support effective ESG reporting and companies' other sustainability goals
Environment, social and governance (ESG) has become a key business priority, as companies respond to investors' increased interest in their social and environmental performance. But a lack of reporting standards, with varying requirements across different ratings providers and ESG frameworks, makes it incredibly challenging for businesses to meet ESG demands efficiently.
Data and technology provide essential solutions to this challenge. Capturing the right information equips a company to achieve ESG goals and supports other sustainability activities, such as producing modern slavery statements and demonstrating tangible progress against targets.
Data to meet multiple sustainability goals
We've identified the data businesses need most to meet ESG demands, and which feeds into many other sustainability-related activities. Gathering this data can save companies time, reducing duplication and effort, and helping build supply chain visibility to make more informed decisions.
The 10 data areas include:
Air emissions (Environment)
Modern slavery risks and occurrences (Social)
Gender pay gap (Social)
Corruption risks and occurrences (Governance)
Our report outlines what each data point is, why it's a common ESG requirement, and the broader ­­benefits of gathering and analysing this data. We also guide businesses on how to capture this data on their own operations and supply chains.
Data-led technology and tools enable businesses to collect, store, share and report on this data at scale across global operations and supply chains. Our Radar risk tool, for example, provides over 340,000 risk scores across countries and industries for businesses to compare social and environmental risks around the world.
Complete the form below to access the full report.