Understanding supply chain risks with the Radar risk tool
Conducting risk assessments is a critical part of sourcing and operating responsibly. Our risk tool, Radar, helps businesses understand human rights and environmental risks across their global supply chains – and prioritise where to take action.
Companies need to understand the various risks to human rights and the environment that can occur in industries and regions around the world. This means that they can take action to protect people, the planet, and their own business from negative impact.  
Radar is Sedex's comprehensive risk assessment and analysis tool. Members use Radar to understand what the most likely issues in their supply chains will be, even at the earliest stages of risk assessment. This allows their business to prioritise additional assessment, risk management, and improvement efforts depending on the most common or severe issues – an important component of effective supply chain due diligence.  
Radar uses hundreds of data sources to produce scores, on a scale of 0 – 10.0, across 14 issue areas, including:
Forced labour
Freedom of association
Gender inequality
Health, safety and hygiene
Wages
Waste and pollution
Water stress
These scores act as an indication for the level of risk within different countries and industries. The higher the score, the higher the risk.
For example, in the "Working Hours" issue area, a score of 10 would indicate that workers are at the highest risk of working excessive hours.
Radar also incorporates data on a business's suppliers, where this is available from audits and the self-assessment questionnaire, to produce unique risk scores for individual sites in a supply chain.
Radar comprises hundreds of data points from independent, authoritative sources on human rights and environmental risks in supply chains.
Data sources for Radar
Our sources include:
For a full list of sources, please refer to the Radar methodology briefing note, plus our separate methodology for forced labour risk scores.
How Radar's scores work
Radar's custom-built methodology takes data from these sources to produce its risk indication scores. There are scores for overall risk and for each for the 14 issue areas by country or industry.
The tool combines country risk information and sector-specific risk information to create a combined risk score for countries and sectors. Sector-specific scores are given at the second level ("Division") of the UN's International Standard Industrial Classification of All Economic Activities (ISIC) system.
  The tool works on two levels: 
Country and sector risk indications, based on third-party data. Providing risk indication across the 14 issue areas, it helps companies understand the levels of inherent risk associated with countries and industries 
Supply chain and site-specific risk assessment. The tool combines inherent (country and sector) risk information with data from the suppliers connected to a business. This allows businesses that are Sedex members to identify suppliers operating in high-risk environments or with workers more vulnerable to labour exploitation, and to explore the risks associated with each individual site.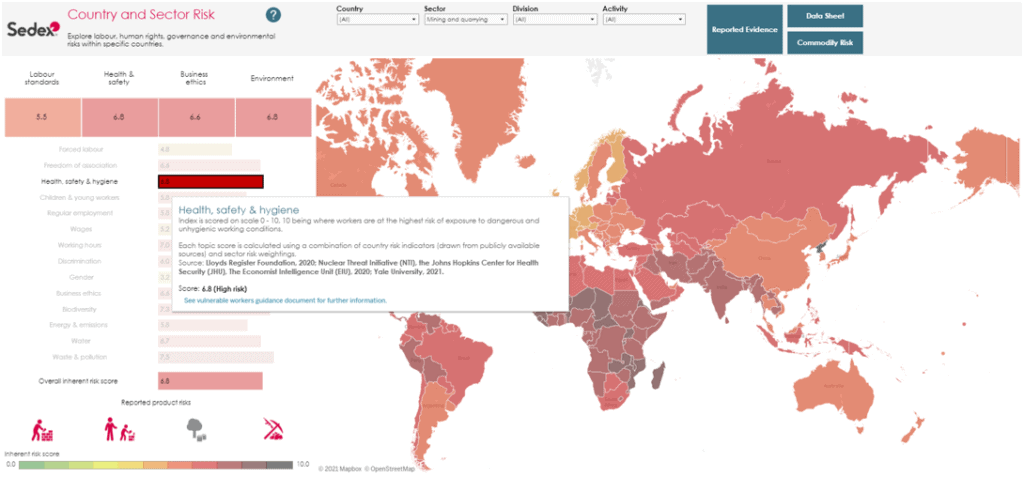 In this screenshot, taken directly from Radar, we can see the risk indication scores for the mining and quarrying sector. There are global scores for each risk area, with "Health, safety & hygiene" showing as 6.8 (high risk), and the overall risk scores in different countries.
Updates for April 2021
We've updated Radar to ensure the scores within the tool are based on the latest data available from our sources.
This included updating the methodology behind the scores to improve their accuracy, by giving more weight to the site-specific data received through audits. A site's Management Controls score and more serious non-compliances that remain open can affect its overall risk score.
Read more about the methodology behind our Radar scores.