How to comply with the UK Modern Slavery Act: requirements for businesses
The UK Modern Slavery Act 2015 law sets out the UK Government's legal requirements for how organisations must address and report on modern slavery.
This law applies to any company doing business in the UK with an annual turnover of £36 million or more. The requirements apply to these companies' own operations and their supply chains.
There are two main parts to the requirements of the Modern Slavery Act.
Take action to identify, prevent and mitigate modern slavery in your operations and supply chains.
Publish an annual statement to report on these actions – within six months of your company's financial year-end.
In 2020 the UK Government committed to some new requirements for the Modern Slavery Act. These include businesses covering specific things in their modern slavery statements, and publishing their statements on a new Government platform. Many of the new requirements will be mandatory once the changes to the Act have been approved by the UK Parliament.
Sedex can support your business to meet these new requirements through our Consulting services.
Updates to the UK Modern Slavery Act: what will businesses need to do?
Businesses with a turnover of more than £36 million and public bodies with a budget of £36 million or will need to publish an annual modern slavery statement
A statement will need to explain steps taken that year by the organisation to identify, prevent and mitigate modern slavery in their operations and supply chains
Statements will need to cover actions in six specific areas. Currently, these are "recommended" areas to include, but will soon become legal requirements:

Organisation and supply chain structure
Policies on modern slavery and human trafficking
Due diligence processes
Risk assessment and management
Actions taken to prevent modern slavery (and measurement against performance indicators, if relevant)
Staff training on modern slavery and human trafficking
If an organisation is unable to report on any area, they will have to include an explanation on why this is the case.
Organisations will need to publish their statements by 30 September each year, on the online UK Government registry. Statements will have to include the date of corporate board approval and director sign-off
Group statements will need to identify every entity within the remit of the UK Act, or within the remit of the Group.
How Sedex can help your business to comply with this Act and address modern slavery
Sedex offers consulting to support your business with your responsible sourcing programme and complying with legislation. This support is tailored to your business's needs – to find out more, get in touch through your Sedex Relationship Manager, or email consulting@sedex.com
We can help your company to identify, address and report on modern slavery in your operations and supply chain, with different tools to support the different activities required by this Act. This enables you to protect your business and to protect workers from this form of exploitation.
Examples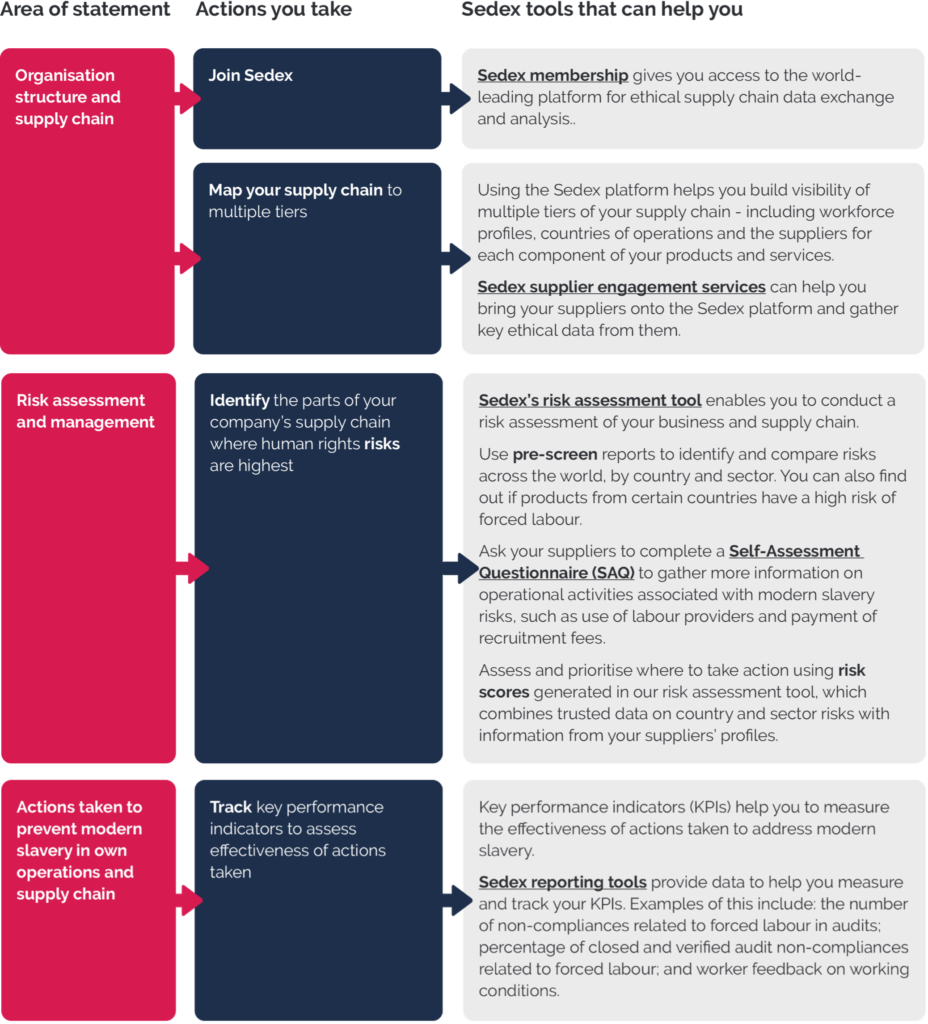 Learn more about how we can help your business in our UK Modern Slavery Act Support brochure.
Contact us
Contact consulting@sedex.com to discuss how we can help you comply with the Modern Slavery Act and other legislation.