The impact of COVID-19 on India's migrant workers
The unfolding coronavirus pandemic is very much a global issue, with nearly every country in the world impacted. However, the impact is affecting individual countries in profoundly different ways.
Last month, Sedex surveyed our 60,000 members and based on responses, businesses in India, China and Japan are experiencing the most severe economic impacts. More than 85% of respondents in India and China are experiencing a significant decrease in revenue, and India reported the highest number of respondents who stated that revenue decrease would be critical (70%). This is severely affecting the garment, footwear, construction and agriculture sectors.
On 23 March, India's Prime Minister, Narendra Modi, entered the country into a period of lockdown to manage the spread of COVID-19. While India's population of 1.3 billion people came to terms with the changes of enforced social distancing, India's 40 million migrant workers had a different set of challenges to contend with (BBC 2020).
Due to the precarious nature of labour jobs in India, many daily labourers, who are often migrants, lost their livelihood due to lockdown. This has created issues including starvation, separation from family and no alternative forms of employment (Al Jazeera 2020). The inter-state migrant workforce represents the lowest paying and most insecure jobs, in key sectors such as construction, hospitality, textiles, manufacturing, transportation, services and domestic work (BBC 2020).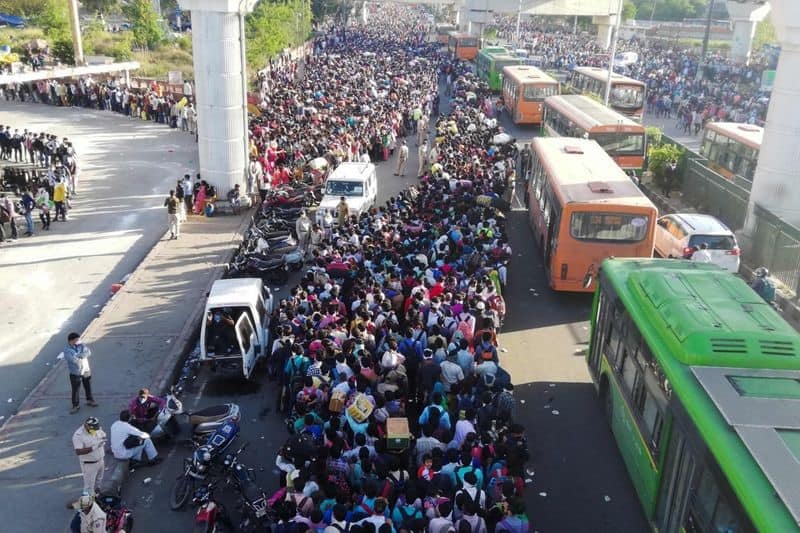 As lockdowns around the world increase unemployment, many vulnerable workers will be pushed into more precarious situations and lack protection (UN 2020). Shortage of labour is likely in those sectors, increasing the possibility of exploitation the remaining workers, and how this will impact internal migrants in the coming months. Once the pandemic has been managed to a point that sites are safe to return to for work, migrant workers may be taken advantage of, and are likely to accept any type of work so they and their families have means of income.
Even when workers can resume their roles working on site, whether that be construction sites or textile factories, safety measures will have to be introduced to mitigate the risks of COVID-19 such as regularly checking the temperatures of workers and social distancing in working areas.
Why are migrant workers more vulnerable?
Due to differing circumstances, some groups of people are more vulnerable to the impacts of COVID-19 than others. View Sedex guidance on people who are vulnerable to COVID-19.
Migrants (including domestic migrants) may not be able to get home and may not have access to local healthcare or the same legal rights as local workers. Those without a right to work may be particularly vulnerable at this time.
Many migrants live in crowded accommodation or dormitories where social distancing is challenging to implement. They have limited access to personal protective equipment, such as masks or sanitiser.
Those working in factories producing key goods, such as canned or processed food, are unable to distance themselves physically on labour-intensive production lines. Infection risks are high, yet few are offered hardship benefits or incentives.
Many migrants who are now jobless, may not be eligible for assistance from the government, or eligible for receiving unemployment benefits. Food shortages and homelessness are therefore on the rise, and lead to the risk of modern slavery.
How vulnerability can lead to forms of modern slavery
When people are desperate, they are more willing to compromise their working conditions and expectations when it comes to pay, accommodation and simply being able to eat. In this way, there is a potential for exploitation to increase exponentially, because you have so many people who are desperate for work. Rather than receive minimum wage, they will accept the bare necessities – food and accommodation, just to survive.
Migrant workers can often lack freedom of movement because of their immigration status, and their passports may be taken. They are therefore at greater risk of exploitation as they seek to return to their home countries or travel to find work irregularly and out of desperation.
Border closures mean aspiring migrant workers already recruited, and those who returned home for document processing, are stranded in origin countries without employment, many heavily indebted and at risk of debt bondage.
Migrant workers across the world, are at increased risk of facing xenophobia and discrimination currently as society grapples with this pandemic.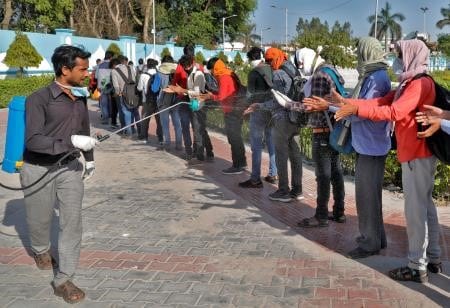 How businesses can work to support vulnerable groups during the COVID-19 pandemic
Due to unprecedented demand, some businesses are being asked to produce more products with a reduced number of employees. Some suppliers are completely non-operational due to health and safety precautions. Governments, lawmakers and businesses must uphold human rights and labour laws to protect the most vulnerable workers in supply chains during the pandemic.
Sedex has issued guidance for members, which can inform business and supply chain continuity when working with supply chains affected by COVID-19. Sedex members can use data from our Self-Assessment Questionnaire (SAQ) which can provide information about labour conditions, environment, health and safety conditions and business ethics.
A municipal worker sprays disinfectant on migrant workers in Lucknow before they board a bus to return to their villages. Image credit: Quartz India
Buying organisation can also use reports from Radar, Sedex's risk assessment tool, as well as Sedex Analytics to understand more about their supply chain. These assessment tools can help companies mitigate potential business risk and support ethical practices throughout the pandemic by understanding trends in global supply chains and working with supply chains to address issues and implement improvements.
The new tool helps businesses listen directly to workers, and to respond and improve working conditions in their business and supply chain during COVID-19 disruption and beyond.
The new program uses survey tools and mobile voice technology to enable feedback directly from workers throughout the supply chain, which will make the sharing and collection of direct feedback on workplace conditions simpler.
Sedex will shortly be launching a new virtual assessment tool, helping to plug the social audit gap where SMETA audits cannot be carried out. Please stay tuned for updates on this exciting new service.
References
Bahree, Megha (2020), Indian companies rethink strategies in a post COVID-19 world, Al Jazeera, 6 May
Pandey, Geeta (2020), Coronavirus in India: Desperate migrant workers trapped in lockdown, BBC, 22 April
Seetharaman, G. (2020), The challenges of lifting the lockdown, The Economic Times, 19 April
United Nations, (2020), UN rights expert urges States to step-up anti-slavery efforts to protect most vulnerable during COVID-19, UN News, 5 May