Sedex introduction to occupational health and safety
Health and safety in a business context refers to the safety, health and wellbeing of people at work. Businesses have an obligation to prevent work from having a negative physical or mental impact on workers.
What is occupational health and safety?
Occupational health and safety, which is enshrined in law, exists to protect workers from physical and mental hazards in the workplace. All businesses have a responsibility to protect their employees and to support the wellbeing of the workers in their supply chains.
Occupational health and safety covers areas such as:
The risks to a worker's physical wellbeing that may exist in a workplace.
The physical risks involved in particular jobs or tasks.
The general safety of a workplace, such as building safety and fire safety.
The mental demands and risks to mental wellbeing that may exist in a workplace, job or task.
The measures a business must take to identify and monitor these risks, and the measures required to protect workers against such risks. For example, this might involve providing appropriate protective gear to workers or access to medical care free of charge.
Why is health and safety important?
Failing to properly protect workers comes with a human and economic toll. The total economic burden (shared across individuals, employers and governments) of poor occupational health and safety is estimated at 3.94% of global GDP every year – more than $3 trillion USD.
The International Labour Organization (ILO) estimates[1] that:
2.78 million workers die every year from work-related injuries and diseases.
160 million workers suffer from non-fatal work-related diseases.
374 million workers each year suffer from non-fatal injuries per year.
Some jobs and industries involve greater health and safety risks than others. The ILO considers the agricultural, construction and mining sectors as the three most hazardous for workers. These industries are substantial employers – the agricultural sector, for example, employs an estimated 1.3 billion workers worldwide, or half of the world's labour force[2].
Sedex's risk assessment data shows that the agriculture sector indicates as "high risk" for health, safety and hygiene[3].
Work-related deaths, injuries and diseases take a particularly heavy toll in developing nations, where many people are engaged in hazardous work like agriculture, construction, logging, fishing, and mining. In the developing world, death and disability caused by hazardous work is a major cause of poverty, affecting entire families. The poorest and least protected, often women, children and migrants, are among the most affected.
Health and safety issues can be extremely common. In 2019, safety issues around chemicals and hazardous materials were the second most common type of non-compliance in SMETA audits uploaded to the Sedex platform[4] – with over 14,000 instances found.
Why should businesses care about health and safety?
Occupational health and safety provides both necessary protection for workers and helps a business to operate smoothly with a safe and healthy workforce.
Research has shown that improving workplace safety standards brings business benefits. Safe and healthy working conditions are linked to:
a lower rate of work-related injuries and illnesses
reduced absenteeism
reduced worker turnover.
Improving workplace conditions and meeting health and safety standards can help a business to attract and retain workers, and lead to a safer and more productive work environment.
What responsibilities does a business have?
Any business has a legal obligation to protect its workers. Companies may also include particular health and safety measures in a Supplier Code of Conduct, requiring their suppliers to ensure additional risk management and protection for workers throughout the supply chain.
Business responsibilities include:
Making sure workplace health and safety hazards are identified, evaluated and controlled, and that safe work practices are followed.
Equipping workers to do their jobs safely – with appropriate uniform, protective personal equipment (PPE) and safety measures across a workplace, including extra measures for specific tasks that may carry more risk (e.g. operating machinery or using sharp tools).
Ensuring workers are well trained on hazards and take the necessary precautions to do their jobs safely. Workers should be encouraged to report unsafe conditions, receive proper medical care when injured or ill, and should not be penalised for refusing work that could endanger their health or safety.
Having proper documentation, policies and processes for managing health and safety, to make sure risks are being managed and safety procedures being followed.
Collectively these activities form a health and safety management system.
Managing health and safety responsibilities
A formal health and safety management system supports a company in meeting legal and additional health and safety standards. It should account for the health and safety of directly and indirectly employed workers, including those that work remotely such as homeworkers.
You can find more information on how to set up a formal health and safety system here: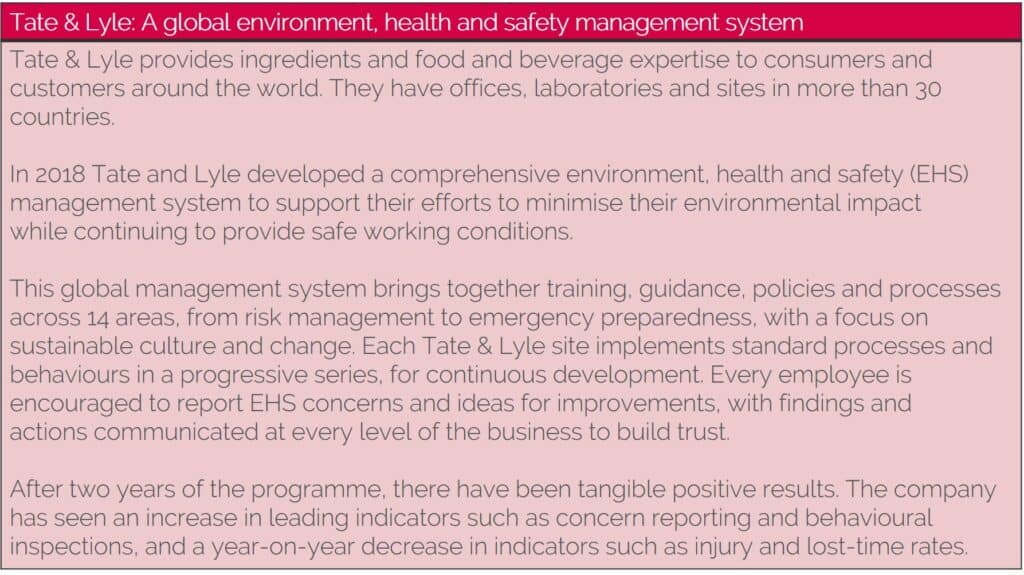 Contact Sedex to find out how we can help you identify health and safety risks in your business.
[1] https://www.ilo.org/global/topics/safety-and-health-at-work/lang–en/index.htm
[2] https://www.ilo.org/safework/areasofwork/hazardous-work/WCMS_110188/lang–en/index.htm
[3] Agriculture, forestry and fishing – sector score 6/10 in Sedex's risk assessment tool, Radar
[4] "Inadequate safety measures and training around handling, storage and disposal of hazardous materials and chemicals" – see Sedex 2019 Annual Review, p.20