Sedex introduction to business ethics
Business ethics are a company's ethical principles. They are a set of rules and moral standards for a company to define and follow, outlining how the company will operate ethically and in compliance with laws around issues like bribery and corruption.
What are business ethics?
Business ethics are the application of moral standards such as integrity, transparency and honesty to business activity. These standards help to define and put into practice a company's approach to issues such as bribery, corruption, improper influence, and conflicts of interest.
These issues are significant obstacles to economic and social development, and particularly affect poor communities. The UN Development Programme estimates that corruption, bribery, theft and tax evasion cost developing countries US $1.26 trillion a year 1.
Every company needs robust anti-bribery and corruption policies and procedures to protect their staff, reputation and operations. Companies can draw on governing principles and guidance from organisations that outline appropriate ethical conduct for businesses:
Businesses must commit and adhere to ethical standards as part of national anti-bribery and anti-corruption laws, such as the US Foreign Corrupt Practices Act or the UK Bribery Act 2010.
Why companies should care about business ethics
Bribery and corruption can hinder business growth due to the serious legal, reputational and operational risks that can occur. They increase the costs of business transactions and government services, result in unfair competition, and can result in severe penalties for businesses. For example, in February 2020 aircraft manufacturer Airbus paid £3 billion in fines following a corruption investigation in which it admitted to bribing officials to win contracts.
Poor business ethics can weaken the trust of customers, investors and employees. These stakeholders understand that corruption can negatively impact value and pose risks to investments and brands.
Clear commitment to business ethics, including throughout your supply chain, helps to protect your company, its reputation, and the interests of your stakeholders. It also promotes a high standard of business conduct throughout the supply chain, which contributes to positive development.
Examples of bribery, corruption and risks to business ethics
Bribery, corruption, conflicts of interest and improper influence come in many forms, but can include:
Unofficial or "off-book" payments to government representatives or bodies (including payments where the value exceeds the legally stipulated amount)
Excessive gifting or hospitality that could exert improper influence over a business relationship, and may place one company at an unfair advantage over another
Undocumented services or favours promised outside of a contract's scope
Backdating or otherwise altering written contracts
A supplier business or service provider tendering for a contract owned by an employee's relative (conflict of interest)
Attempts to influence audit results – such as requesting findings to be left out of an audit report in exchange for a bribe.
Creating policies and processes to negotiate these types of situations will help your company maintain their ethical values, comply with relevant laws, and meet stakeholders' expectations.
Managing business ethics responsibilities
Activities to implement and maintain ethical business conduct include:
Creating policies to ensure your company meets ethical standards and complies with relevant laws. These policies should confirm that any employee who refuses to act unethically will be supported
Understanding international laws, local laws and local customs so that your business knows what is legal and appropriate, and what isn't
Identifying risks to business ethics – for example, Transparency International's Corruption Perceptions Index ranks countries based on how corrupt their public sectors are perceived to be by experts and business executives. Learn more about business ethics risk assessments here
Developing procedures and approaches for preventing, monitoring, reporting, detecting and resolving bribery or corruption issues. This includes setting clear parameters (e.g. the value thresholds for gifts) and restrictions (e.g. limiting access to sensitive information)
Ensuring sufficient resource, including the right roles, staff and training, for everyone in the business to carry out your procedures in a way that meets the intention of your policies
Clear documentation keeps records and allows you to monitor your own and suppliers' operations. For example, the procedure for anything involving payments to local officials should be written down, setting out the steps for performing tasks in an authorised way, logging activity and payments
Regular monitoring checks that procedures are being followed and that the business remains compliant with laws and standards
Conducting training and communication with workers builds awareness and capability. Individuals whose jobs involve dealing with public officials, suppliers or financial transactions should receive targeted training on the procedures they must follow to make sure their dealings and decisions are not improperly influenced or violating the law
Improve your practices by addressing business ethics issues and identifying and resolving root causes.
Together, these activities form a business ethics management system. You can find more information on how to set up a formal management system here.
Contact Sedex to find out how we can help you identify risks to business ethics in your company and supply chain.
Example: a gift-giving and receiving decision tree
A decision tree helps workers to understand the rules and processes when they are unsure what to do in difficult circumstances.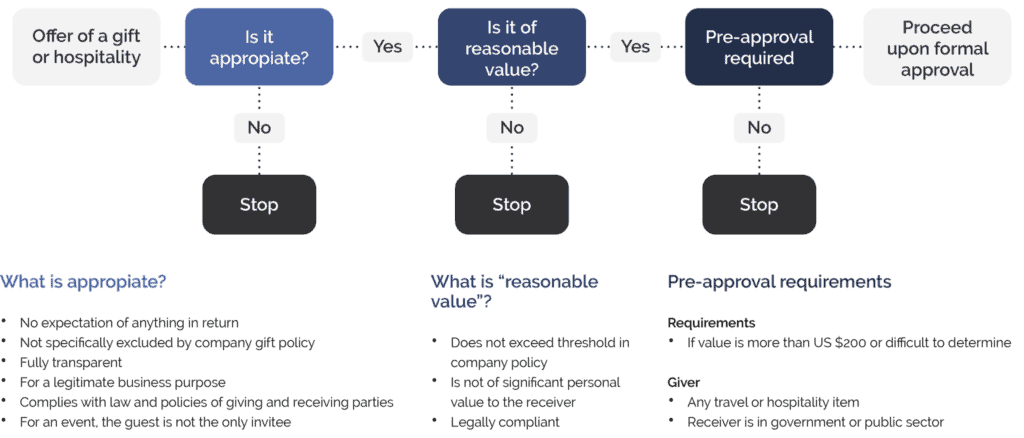 Glossary
Bribery: the practice of offering money or something of value in exchange for obtaining preferential treatment or improper advantage
Conflict of interest: Where an individual (or entity) is confronted with choosing between the duties and demands of their position and their own private interests
Corruption: Fraudulent or dishonest behaviour or inducing improper behaviour by unlawful means, such as bribery
Extortion: Using access to a position of power or knowledge (either directly or indirectly) to demand cooperation or compensation as a result of coercive threats
Unfair advantage: Obtaining something to which a company is not entitled, such as a government approval or permit, by means of a bribe or other unethical practice