Labour management: developing and maintaining good labour standards
All businesses have an obligation to their workforce, to provide decent work with safe, fair and humane working conditions. Labour management helps companies to do this. Here, we look at companies' responsibilities and outline our recommendations for effective labour management.
Your company's responsibilities to their workforce
Your company must make sure that:
Ethical recruitment practices are followed
Workers are assigned jobs based only on their ability to do the work
Workers are paid properly and do not work too many hours
Workers are treated with respect, disciplined fairly, and can leave or have their roles terminated in a way that respects their legal rights.
This applies to your own business and your supply chain.
If there are any differences between national laws and a business's Code of Conduct, we recommend that you act in line with the standard that provides greater protection for workers. This is particularly critical when it comes to health and safety, in which failing to meet international standards can have the biggest consequences for workers, such as serious injury.
It's important that your business understands the challenges your workers, suppliers and supply chain workers face. This enables your company to tailor their approach based on workers' needs, build inclusive workplaces and proactively manage any risks to workers' rights.
For example, you can consider the particular needs of female workers – such as appropriate sanitation facilities in ladies' bathrooms – or of migrant workers, who may need information and documents in their native language. You can also consider using anonymous feedback channels to gather insight from workers on the issues they feel most strongly about.
Activities to develop and maintain good labour standards
Creating policies to ensure your company has high standards, complies with all relevant laws, and meets customer expectations. For example, your business should have a clear policy on using recruitment agencies
Identifying risks to labour standards in your business and supply chain. Ask suppliers to provide information about their sites to help you with this
Developing procedures and approaches for preventing, monitoring, reporting, detecting and resolving any breaches of labour standards. This includes outlining clear processes for activities such as recruitment – like verifying candidates' ages to make sure they are over 18
Ensuring sufficient resource – the right roles, staff and training – for everyone in your business to work in line with your policies. HR teams are particularly important here, as they are usually responsible for employee wellbeing
Clear documentation keeps records and allows you to monitor your own and suppliers' operations, to make sure everybody remains compliant with laws and standards. Write up policies and procedures, with documented checks – this can be as simple as a checklist
Training and communication builds awareness and capabilities among workers. Training suppliers on your standards is critical – they need to know what your business expects of them and understand what this means for them
Improve your and your suppliers' operations by addressing labour issues, identifying root causes, and resolving these.
Example:
The "5 whys" method helps you to understand the root causes behind a labour-related issue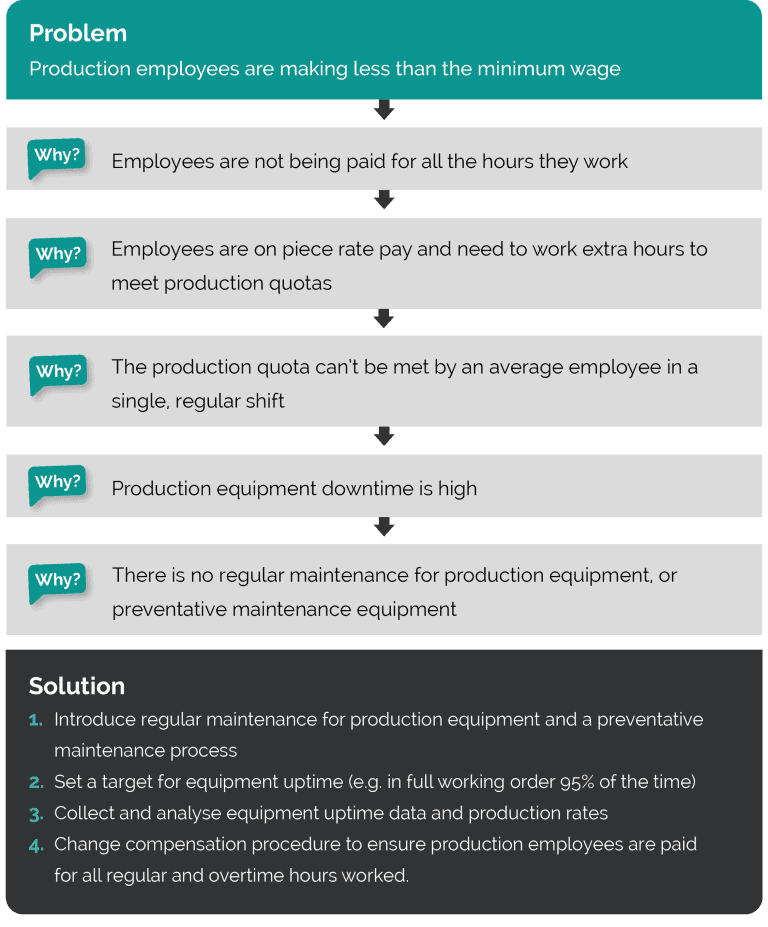 In addressing root causes, consider how your company can work in collaboration with industry peers and local communities to help resolve common problems.
Together these activities form a labour management system. A formal system is most effective and efficient when its processes are embedded into day-to-day roles and responsibilities. The right processes will help your business prevent risks and spot early warning signs of issues, so that you can take action quickly.
Contact Sedex to find out how we can help you to understand the labour standards, risks and issues in your company and supply chain.