Xplore Sustainability North America: Legislation, Insights and Sedex Product Updates in Chicago
This November saw the Sedex Community convene in Chicago for our second North America event.
Our intimate Community gathering brought Sedex members, partners, industry associates such as APSCA and interested guests together with Sedex experts to discuss major themes in North American markets around supply chain sustainability.
We took the opportunity to put Sedex on show, bringing leaders from our US and UK offices across Product, Consulting, Marketing, Community and Executive departments. Together our team emphasised the full extent of Sedex's solutions, and how they support North American businesses to address the pressing supply chain sustainability issues of today.
"The sessions were a great mix of topics, and provided good background/grounding information for those of us who were not already experts in the subject(s), like the UFPLA. It's hard to identify one highlight – I felt I picked up useful ideas or updates in each session."
Sustainability analyst
Food & beverage company
Key takeaways
Businesses across North America, Europe and globally face similar concerns – so can learn from each other. From new legislation and driving impact to the push for increased supply chain visibility, some key sustainability challenges are felt on both sides of the Atlantic.
This reinforces the value of a holistic approach for brands operating in multiple markets, and how supply chain best practice or learnings transfer well from one region to another. This is a key purpose of the Sedex Community – bringing businesses from different regions and sectors together to learn from each other.
The shared challenges also highlight the universal applicability of Sedex's solutions, and how our approach supports companies with sustainability-related requirements across different countries.
Auditor shortage is a challenge that our Community is keen to help address. Compared to regions such as Europe and Asia-Pacific, there aren't many APSCA-accredited auditors to meet businesses' demands – and the training/accreditation process takes time.
Sedex and APSCA confirmed during a joint session that we'll work together on potential solutions, such as recruitment drives and fast-tracked training. We'll hold a workshop later this year with audit companies to identify other initiatives, and look forward to taking up Sedex members on their offers of support.
41% of attendees said SMETA audits are mandatory for all sites.
A significant proportion of our attendees in Chicago confirmed that they require SMETA audits for every site they're aware of in their supply chain. It's worth remembering that other tools in the Sedex suite help companies to prioritise audit activities. These include Radar for initial supply chain risk analysis, and integrated analytics within the Platform to identify particularly high-risk sites.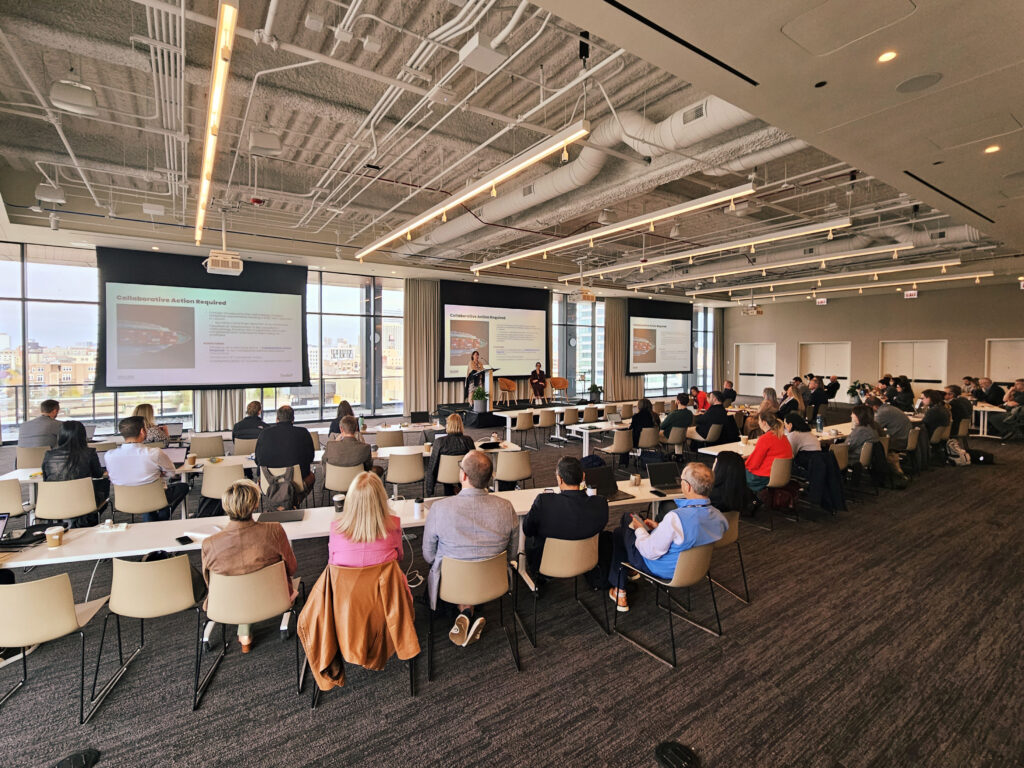 Welcoming a diverse range of perspectives from across our Community. We had the privilege of hearing from various stakeholders, including large national and international brands, suppliers businesses, prospects, our partners TraceGains and Emitwise, and audit companies Eurofins and SGS, alongside our own Sedex team.
This diverse representation across under 100 attendees created an environment that fostered openness, honest discussion and high engagement throughout the day.
A drive to move from data and findings to demonstrable impact.
As requirements from investors and legislators evolve beyond ESG reporting, our Community in North America is keenly aware of the need to demonstrate how they're addressing sustainability issues. Supporting our members to do this – for example, through focused insights, improving SMETA to better detect critical issues and highlighting data points that evidence gradual improvement – is an important focus of Sedex's strategy.
Don't just report – do!
Bex Hall
Global Head of Consulting
Sedex
Spotlight on Sedex product development
Xplore Sustainability North America balanced industry-wide and global landscape discussions with up-to-the-minute insight on Sedex tools development – including SMETA, the Self-Assessment Questionnaire (SAQ) and our Audit Quality Programme. The event presented a fantastic opportunity for instant feedback from our Community.
We welcomed honest comments, challenging questions and suggestions for our core solutions. Attendees also got a "sneak peek" of new updates to the Sedex Platform, which are designed to simplify and shorten key processes for day-to-day users.
We thank our Sedex Community and valued guests for their time in Chicago. In recognising the supply chain challenges businesses face, we reaffirmed our collective commitment to addressing these, collaborating across industries and sectors to drive real, tangible change.
Ready to join the Sedex Community?