The Sedex roadmap – delivering more value for Sedex members in 2022
2021 has been a busy year for Sedex. As we look to 2022, we wanted to recap the highlights in 2021, and our exciting plans for 2022, which aim to support you even more with your business goals.
Sedex's purpose is to provide our members with the most trusted and efficient information, tools, and services to manage risk and drive responsible business in global supply chains.
The foundation for accessing this information and tools is through the Sedex platform. This year, we announced our platform transformation plans for 2021 and 2022, and our significant investment in new technology to deliver more capabilities for our members.
Throughout the year we have been busy speaking to many of our members and engaged with more of you than ever before to better understand how to support you in solving the complex challenges you face. This year:
8,000 members gave us survey feedback
500 members tested new features
We ran 20+ workshops
Thank you to all the members who took part in our workshops, surveys, Early Access Groups (EAG) and feedback sessions. This constant conversation ensures you are at the heart of our platform development, allowing us to understand your challenges so that we can build tools, services and a platform that supports your business.
Key highlights in 2021
This year we have successfully built the foundations of our next-generation platform and begun to build, test and improve features on our new platform, such as:
Simplified supplier onboarding
Supplier data in a single place with Site status
Improved global accessibility by adding three languages
Strengthened performance on the new platform giving you access to your data quickly
You can find all the improvements we have made to the new platform so far here.
We also launched the Sedex Community, to support our members in discovering, learning, building, and leading the way in responsible business.
The Community Programme hosted multiple events throughout the year across responsible sourcing, gender equality, supply chain risk assessment, supply chain visibility, modern slavery, and due diligence topics. These sessions brought members together to discuss key challenges in their business and feed into the evolution of our assessment tools, including the Self-Assessment Questionnaire (SAQ) and SMETA, to better support members.
We heard that members at the start of their responsible sourcing journey need more support and guidance. To address this, we launched Sedex Consulting to support businesses in the areas they need support, such as meeting legislation or developing their responsible sourcing programmes. Consulting allows us to support members with a tailored service that delivers exactly what is most important to you and complements the benefits of Sedex membership.
What we're focusing on in 2022
Throughout 2022 we will continue building our new platform, developing brand new functionality, embedding automation, supercharging performance, and delivering a next generation experience for you and your teams.
By the end of 2022 the majority of member workflow will be in the new platform
Making it easier for all members to access the new platform
Improving the audit workflow
Improving our data and reporting tools to help our members surface more insights, more easily
Helping our members improve their supply chain visibility
Improving the quality and accuracy of our assessment tools – particularly the Self-Assessment Questionnaire and SMETA.
You can view our 2022 roadmap for the new platform below.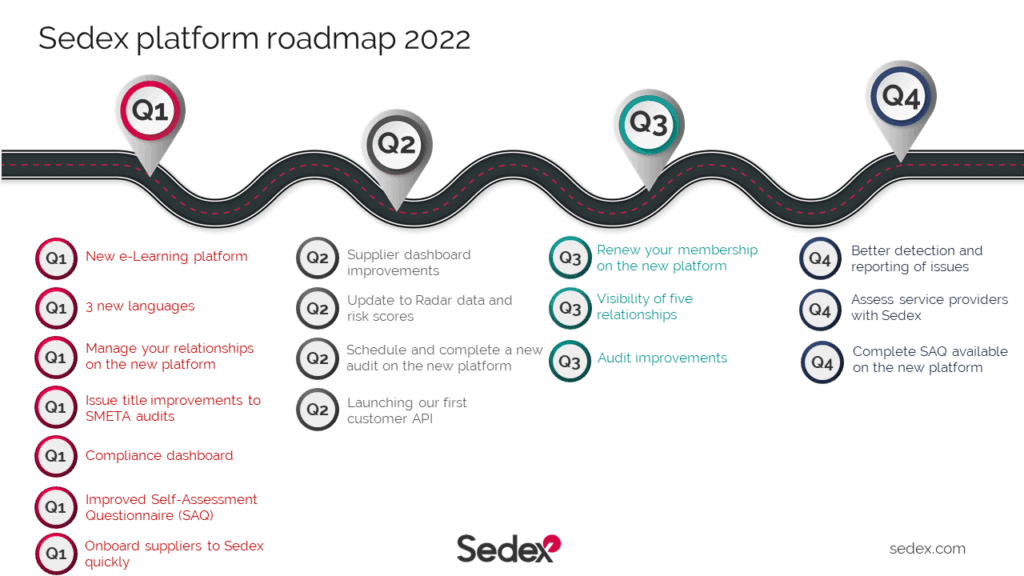 Alongside our work on the new platform, we will also be launching a new e-Learning platform for members. This will be fully accessible in three languages, with an improved interface and content structure to help members more easily find the content they are looking for – there's lots to be excited about.
Throughout 2022, we will continue to improve the quality of SMETA audits through the Sedex Audit Quality Programme (AQP) by working with Affiliate Audit Companies to drive improvements through training, shadow auditing and more.
We also plan to return to physical events, with the annual Sedex Conference set to take place in London during 2022, alongside other regional conferences. Watch out for a 'save the date' coming soon.
Get involved testing new features and have your say
Your feedback is critical to our growth. To ensure our members' needs are embedded in our products, services and platform rebuild, we've created an Early Access Group (EAG) and member survey programme. This programme allows members to input, preview and use new features before they are rolled out more widely.  EAG members are shaping the next generation platform for responsible sourcing and getting a head start on using new features. To sign-up you can register here.