"Japanese Food & Beverage Industry Buyer Members Sedex Working Team" created
Sedex members join together on human rights due diligence
Background of the establishment of the working team
On September 13, 2022, the Ministry of Economy, Trade and Industry formulated the "Guidelines for Respecting Human Rights in Responsible Supply Chains."
It is expected that the number of requests for implementation of Human Rights due diligence will increase. Currently, Sedex member companies are already using Sedex's services as a support tool for implementing human rights due diligence, but it is being used by individual companies. However, buyer companies in the same industry often do business with common supplier companies, and if Sedex's supplier evaluation information can be shared in the same industry, both buyer companies and supplier companies can more efficiently include human rights due diligence.
In order to further expand common benefits and efficiency on an industry-by-industry basis, we proposed "shared utilization of Sedex" to Japanese buyer member companies in the food and beverage industry, which has the largest number of buyer members, and obtained the agreement of the participating companies, resulting in the "Food & Beverage Industry Buyer Member Sedex Working Team" (hereinafter referred to as "Working Team").
Future efforts of the working team
In the future, the working team will
Approach suppliers with information, such as Sedex joint briefings, for supplier companies of each company
Promote common usage and standardization of Sedex within the food and beverage industry
We plan to discuss and promote Sedex utilization promotion methods throughout the value chain.
Participating companies of the working team
As of October 2022, the following 10 companies are participating in the Buyer Member Sedex Working Team for the Japanese Food & Beverage Industry. (Order of the Japanese syllabary)
1. Asahi Group Holdings, Ltd.
2. Ajinomoto Co., Inc.
3. Kikkoman Corporation
4. Kirin Holdings Company, Limited
5. Sapporo Holdings Ltd.
6. Suntory Holdings Limited
7. J-Oil Mills Co., Ltd.
8. Nichirei Foods Co., Ltd.
9. House Foods Group Inc.
10. Lotte Co., Ltd.
Inquiries about the working team
For inquiries about Sedex and the working team, please contact the Sedex Japan Helpdesk: 0120-241-013 / helpdesk@sedex.com
For inquiries about participating companies of the working team, please contact the participating companies.
Supplementary information
What is human rights due diligence?
It refers to a series of processes to investigate and evaluate the negative impact (human rights violation risk) that corporate activities have on the human rights of stakeholders, and to prevent, mitigate, and correct them.
Reference: Ministry of Economy, Trade and Industry Business and Human Rights ~Towards a Responsible Value Chain~
Procedures for building and implementing efforts to respect human rights based on the UN Guiding Principles on Business and Human Rights.
( From the Caux Round Table Japanese Committee website )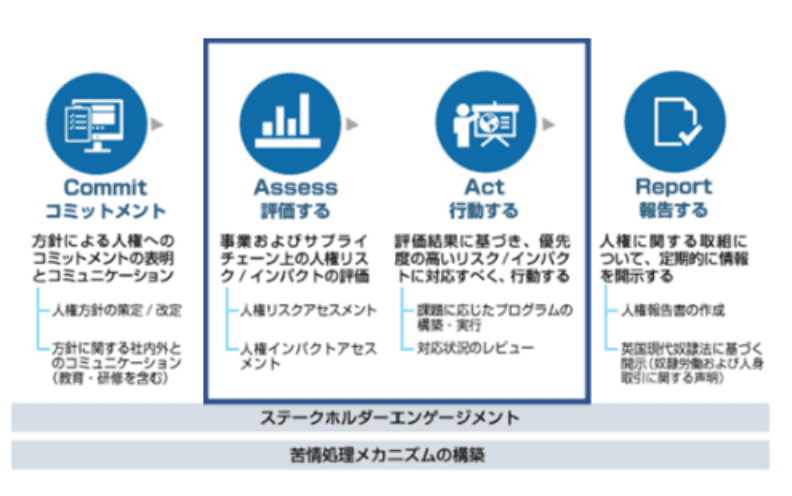 In the above process, the blue frame is the range where the Sedex platform can be used.
Assessment of human rights risks/impacts in business and supply chains
Based on the assessment results, take action to address high-priority risks/impacts
⇒Answers to Sedex's common SAQ (Self-Assessment Questionnaire) and assessment based on risk score and management ability score.
⇒Confirm on-site by SMETA audit, visualize issues, and review corrective measures and response status for audit findings.