Sedex introduction to environmental management
Businesses have a responsibility to prevent environmental damage by operating sustainably.
What is "environmental management" in a business context?
Environmental management is when businesses work to protect the environments, ecosystems and communities they operate within. This includes limiting and mitigating any negative impacts they may have on them.
Responsibility for environmental management is both a legal requirement and a growing consumer and investor expectation. Companies are expected to understand and manage the environmental impacts of their operations, maintaining environmental standards in their own business and supporting these standards across their supply chain.
For example, managing these environmental issues could include a business prioritising sustainable energy sources, or disposing of chemical waste safely to avoid polluting water or soil.
Failure to manage environmental risks correctly can have severe consequences on communities, natural resource availability, biodiversity and people's health (both local residents and workers).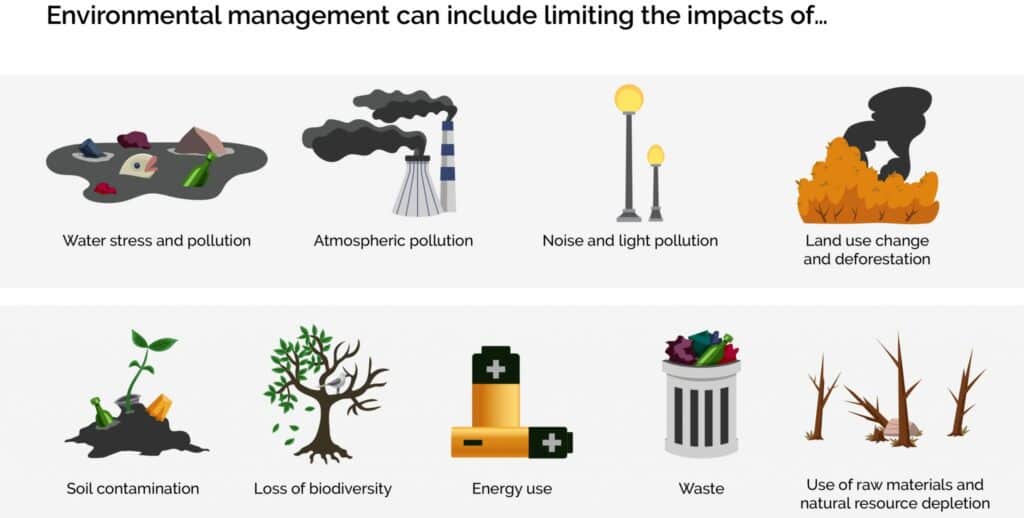 The importance of environmental management
Businesses and industrial activity are major contributors to global environmental issues worldwide. Certain sectors have a bigger impact than others.
For example, resource extraction (mining and farming) and processing are responsible for half of the world's greenhouse gas emissions and 90% of biodiversity loss, according to a 2019 UN Environment study[1]. Fashion is one of the most resource-intensive industries globally, responsible for the production of an estimated 20% of global wastewater[2].
Businesses have an important role to play in solving these environmental challenges. With pressure from consumers, investors, legislation and civil society, environmental sustainability is increasingly on the business agenda.
. For example, there are EU laws governing many environmental areas, fromCO2 emissions in vehicles to the protection of marine ecosystems. Some industries and activities have additional requirements, such as rules for using and disposing of harmful chemicals safely.
Legal requirements range in scope from country to country and may not always be enough to prevent long-term effects on the environment. Therefore, it's important that a business does as much as they can to limit environmental damage, whether there is a legal obligation or not.
Environmental management will support your business
Environmental management and clear standards help a business ensure they are managing their impacts on the ecosystems and communities that they, and their suppliers, operate in. There are several business benefits in doing this:
Protecting business continuity by safeguarding resources and conditions for future operational activity. Negatively affecting the environment can result in a loss of good operating conditions and fewer materials available for business use.
Operational savings can be found in using resources, such as energy and water, more efficiently.
Business performance. Research from consultancy McKinsey finds that the value at stake from risk-related sustainability issues can be up to 70% of a company's earnings (EBITDA).
Protecting business reputation. Consumers, investors and communities are increasingly wary of companies with poor environmental records. The risk of environmental damage is not an attractive investment prospect.
Managing business responsibilities
Every business has a responsibility to manage and limit the environmental impacts that their operations, and suppliers' operations, may have. Companies may choose to include specific environmental standards in a Supplier Code of Conduct to maintain these throughout their supply chain.
Business responsibilities include:
Defining the environmental policies and standards that apply across a company and their supply chain, with suppliers supported to prevent environmental damage
Setting targets or goals, such as a carbon emissions reduction target
Understanding the environmental risks associated with every stage of a business supply chain, from the use of raw materials for physical products to energy efficiency and materials used in offices
Creating processes for preventing environmental damage, identifying and resolving issues, and monitoring environmental standards across business operations and workplaces
Appropriate documentation, with regular checks, to make sure processes are being followed and that environmental impacts are prevented
Providing the right roles, skills, training and equipment needed for workers to follow these processes – and to ensure workers themselves are also protected from any harm (e.g. through chemical pollution).
Businesses can create an environmental management system to govern these activities, procedures and checks. This will help a business to meet legal, customer and investor requirements and to operate in a sustainable way that limits environmental damage.
How Sedex can help your business with environmental management
Sedex solutions can help your business to identify environmental risks, prioritise areas to address and set environmental standards that your business will commit to.
Mapping your supply chain. The Sedex database helps you gather information on your suppliers, including where they are located and the activities occurring at different sites. Our Self-Assessment Questionnaires (SAQs) capture data about sites which is held in our data platform to build an interactive map with reporting capabilities.
Risk assessment – our Radar tool combines inherent sector and country risks with site-specific information to help you understand and analyse the environmental and social risks in your supply chain.
Auditing to dig deeper into sites and suppliers. Our renowned SMETA methodology includes a section on environmental management.
Contact Sedex to learn more about how we can help your business with environmental management.
You can find more information on how to set up a formal environmental management system here.
[1] https://wedocs.unep.org/bitstream/handle/20.500.11822/27518/GRO_2019_SPM_EN.pdf
[2] https://www.unenvironment.org/news-and-stories/story/putting-brakes-fast-fashion