Managing the impacts of COVID-19: How Sedex member Sunshine Fashion is using strategic collaboration
As nations begin relaxing the stringent measures imposed to control COVID-19, commercial priorities are turning from initial crisis management to recovery. Businesses are looking at how to recommence production and trading while protecting workers and supply chains, to ensure restored consumer demands can be met safely.
Strategic collaboration – working with partner businesses and others to develop common solutions – is one of Sedex's recommendations in the COVID-19 Impacts report to help companies weather this crisis, and plan a successful recovery that ensures a safe and robust supply chain.
Collaborating between businesses and their suppliers, manufacturers and industry members to share best practice and create action plans – encouraging mutually supportive crisis management and mutually beneficial recovery plans. It is a crucial defence against business disruption.
To demonstrate the success of strategic collaboration, China-based Sedex member Sunshine Fashion Accessories & Garments shares their experience.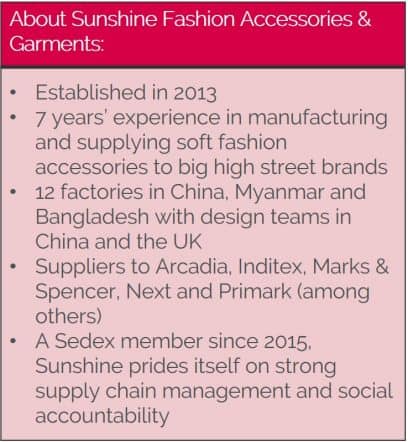 Managing business operations when the pandemic hit
The first distinct phase of the pandemic's impact on Sunshine was from January to mid-March, as the situation developed in China and South Korea.
Impact to factories and factory workers:
Sunshine's factories were shut for Chinese New Year and worried they wouldn't be able to re-open safely or operate at full production rate while protecting workers' health. They felt the pressure of upcoming order deadlines.
Factories were fully closed for three weeks
Factories began opening up from mid-February, and were up to 50% capacity by the end of the month
"We had to react fast to manage the situation," says Managing Director Katherine Kang. "One of the first things we did was get updates from factories on stock and production levels so that we could get this information to our customers quickly – then we looked at how we could release the pressure of imminent order deadlines on factories."
Outcome: easing the pressure on factories.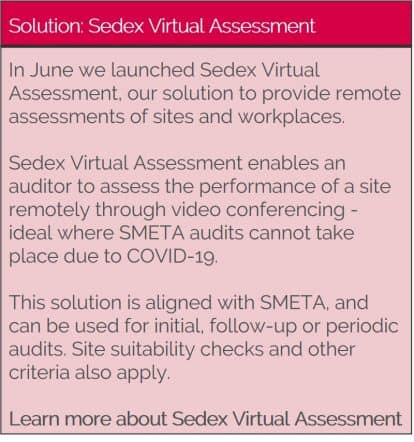 By communicating factories' concerns with buyers and helping all parties understand each other's situation, Sunshine was able to extend delivery dates and negotiate flexibility around future deliveries.
Plans were put in place for factory workers to return to work safely, with personal protective equipment (PPE) provided to all workers free of charge.
Maintaining operations during lockdowns at home and abroad
Sunshine's factories had re-opened, but concerns grew during March as COVID-19 spread through Europe. Sunshine's customers – large European high-street retail brands – were affected by both store and office closures, with some buyers furloughed and unable to work. Sunshine's factories were concerned about order cancellations and their ability to pay workers.
Katherine and her team worked hard to give buyers a full picture of the situation – counting stock and reviewing every order to understand what was possible, while explaining how Sunshine's factories would be affected by buying decisions. Pressurising factories to meet demanding orders would risk workers' health and jeopardise production rates.
This facilitated conversations to identify collaborative solutions, which supported factories while meeting buyers' needs. New delivery dates were agreed for upcoming orders, and Sunshine offered longer payment terms and selected discounts to buyers. To protect factory cashflow, all office staff took pay cuts between 30-50%.
Outcome: factories and workers supported
Realistic and careful planning has protected workers and kept costs down during lockdowns, with the result that the factories are well-positioned to rebuild production levels.
All orders due between mid-March and June were secured, with flexibility on deadlines agreed with buyers
80-90% of factory workers have now been brought back to work
Local pick-ups provided for workers to transport them safely to factories, with social distancing maintained during the journeys
All factory workers were paid on time
Agreed self-mapping and problem-shooting processes with customers instead of in-person audits, providing reassurance while avoiding placing additional pressure on factories.
Business recovery with resilience
Flexibility and robust communication continue to be the cornerstones of Sunshine's approach as the business moves into its recovery phase. Office staff are encouraged to remain working from home where possible, with PPE provided for those entering their workplaces.
The priority is now to restore production rates safely and reliably, working closely with both buyers and factories to agree safety measures and production rates that protect workers.
Making positive operational changes permanent to support long-term sustainability
"We're making sure our recovery supports long-term sustainability," Katherine affirms. "This situation was a big wake-up call to slow down and rethink how we do business, which has never happened before. It's definitely caused changes in our business model – the biggest positive is helping our buyers to realise the importance of working together."
Without this strategic collaboration Sunshine's factories would have been forced to either put factory workers at risk to meet production demands, or close and lay off workers – depriving them of crucial income and affecting production rates.
"We feel strongly that as a fashion supplier, we should take more responsibility and act for sustainability," says Katherine. "We have already reviewed our product portfolio and made some changes."
Further example: Supermarkets supporting suppliers together
Sedex is supporting a series of training webinars for the food sector to help suppliers manage their workforces and impacts to workers during the crisis.
The initiative is led by 10 supermarkets, who along with suppliers have come together to share learnings and industry best practice for managing the impacts of COVID-19.
Click through to access the recorded webinars on: